It's been a while since I last blogged about us, but that's only because we have been extremely busy over the past couple months, and I thought it was about time to check in.  Joe and the crew have been hard at it and straight out, performing some great work in the Carlisle, Concord, Acton area as well as broadening our horizons down in Wellesley, Newton, Natick, and Arlington too.  The "boys" have been busy with new installations of seamless gutter (and downspouts of course), lots of reverse flashing, as well as a lot of very specialty-type  work in wood and PVC fascia, shadowboard, and cornerboard replacements.  We have also been getting a great number of calls lately for people to get on our Fall 2013 cleaning schedule, which is due to start in late October or early November.  Which brings me to the point of leaf protection and cleaning.  Joe and co. have recently done some homes in the Groton, Townsend, Boxborough, Littleton, and Harvard areas that have all requested information about what we recommend for some type of leaf and debris screen or guard.  Well, read on……………..
Most people think that primarily any type of leaf and debris protection is used to eliminate those pesky clogs and any type of maintenance.  That's a good thought, but it's wrong.  Some of our competitors will tell you that, but it's still wrong.   No matter what type of system you have or are considering, and there are many many different leaf and debris protection "remedies", not a single one is maintenance free.  Leaf protection systems do have to be cleaned and maintained, not as often as unprotected gutters, but there is some maintenance involved.  The tops need to be cleaned off once in a while at least, and the system does need to be inspected occasionally, inclusive of the inside areas of the gutters and the downspouts.  Please don't ever let anyone tell you that they are maintenance free.  And there's more……….
We do carry a great leaf protection system, and all aluminum product called RealGuard, made by our friends at Raytech Manufacturing in Ephrata Pennsylvania.  And we do install it regularly.  However, unlike most of our competitors, we do not push it.  Why?  Any type of leaf protection system is not usually necessary everywhere and for everyone.  Everyone, regardless of the amount of trees and their placement or distance, has a micro-climate around their homes.  This creates very specific wind patterns and weather conditions around the house, and so a maple tree that is within 10 yards of your home may not get any of it's "twirly birds" or "helicopters" anywhere near the roof or gutters.  We always advise homeowners to get the gutters installed first, see how they perform, and then have us return for a cleaning when we can identify any areas, if there are any, that may benefit from a leaf protection system.  We also understand as homeowners and working people ourselves the value of the dollar and a good leaf protection system is a significant investment.  And the best part is that it can be added at any time down the road if needed.  But that's only part of the story.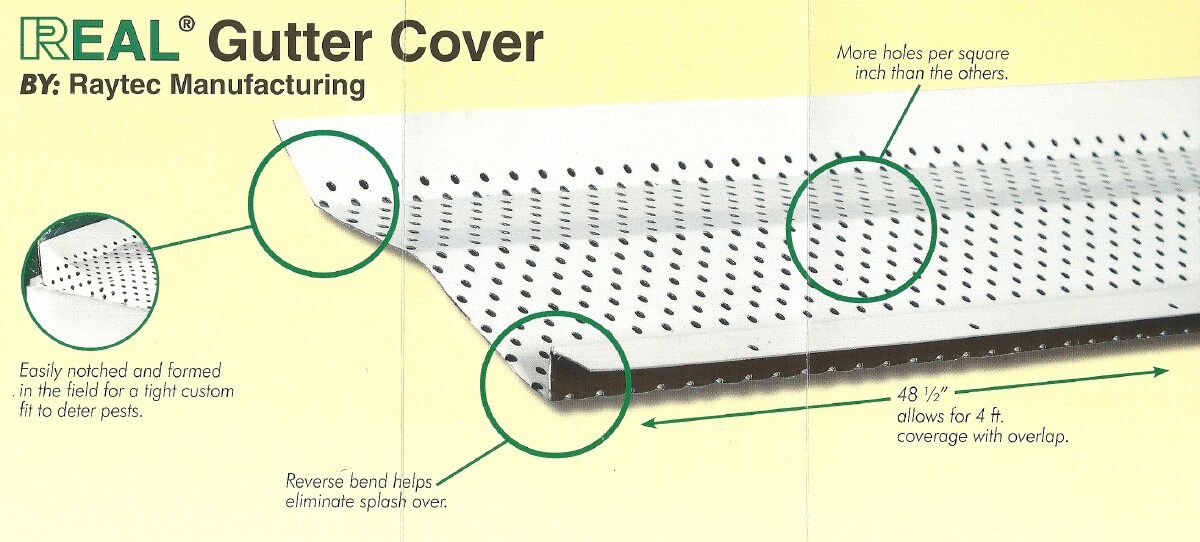 This is the product we use above.  Let me tell you, it is superior to almost all other products out there.  We know, from trial and error and experience.  When we first started up in the early 2000's, we tried almost all the other available products out there.  And nothing worked very well.  The diamond plate type material lets pine needles through.  The screen-door type materials clogged with broadleaves.  The solid-covered systems (helmets) allowed most large broadleaves to either stick on the outside of the gutters or get partially stuck in the opening (they also will dent in the winter under heavy ice and snow loads).  Most systems didn't fit tight, were not well supported and tended to bend and buckle, and in general required almost as much hassle-prone maintenance than a system without any coverings.  And then, about 10 years ago, we discovered this product above, RealGuard.  It's all aluminum, conforms to fit existing and new systems, and only requires the occasional blow-off to maintain it's complete functionality.  We found it not only great for any size broadleaf, but pine needles and twirly-birds as well.  6 years after installing RealGuard on a client's home in Maynard whose property is loaded with pine needles, we went by to inspect because this client had never called and we wanted to see how the product was holding up in the most adverse of pine needle conditions.  The client had piles of pine needles on the roof – maybe 3′ high or more, and pine needles all over the tops of the RealGuard.  Joe asked the client how everything was and if she needed a cleaning (after 6 years).  Her response confirmed our faith in this product – the client said  that although the pine needles didn't look so good, the looks weren't bothersome, and the gutters were working absolutely fine!  Joe and the crew then went and checked inside the gutters, and believe it or not, there wasn't a single leaf or pine needle anywhere.  (Being the great professional that Joe is, he cleaned the gutters and roof of pine needles for free – he's fussy about stuff like that)).  It is by far one of the best investments in a leaf protection system that you can get.  This is what we use and recommend – but only when necessary and beneficial.  But make no mistake, no system is entirely maintenance free, and the installation of this leaf protection system is not inexpensive either.  But if you need it and it makes sense to have it in certain areas (upper rears, high fronts, places not easily accessible by most homeowners), then this is the product to get.
So to answer the direct question of what can I do as I'm tired of cleaning my gutters, consider all your options.  Hopefully we've provided enough information for anyone to make an informed and sensible decision.  Visit our Gallery section and see pictures of the actual installation of this product.  And keep an eye here. I promised a bit about reverse flashing, and I'm still figuring out the logistics of adding this great video that Joe took recently of how it performs.  As always, call us for your rain control needs.  Seamless aluminum gutters and downspouts, RealGuard leaf protection system, aluminum reverse flashing, fascia and cornerboard replacements (surfaces the gutters and downspouts are mounted on), gutter replacement and repair, cleaning and flushing – we do it all.  And lest I forget, a special welcome to our new friends in Ayer and Acton – we're looking forward to working with you.