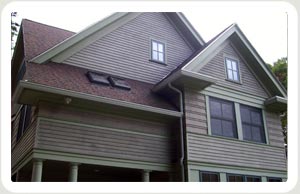 Our gutters are made of .032 gauge Alcoa brand aluminum in either 5 or 6" sizes that we stock in a variety of colors. (see color chart) In addition to aluminum gutters we install half round galvanized and copper gutters.
We attach the gutters to your structure using Raytec brand hidden bar hangers rated for 297 pounds! every two feet. (see the Raytec Hanger and specifications. Click for picture.) Other companies' still use inexpensive lightweight hangers that are nailed into fascias, or screwed with inexpensive screws that rust or break off in time.
All our Installations are designed to withstand ice and snow build-up normally encountered in New England. We also offer snow and ice removal.
#440 Stainless steel, non-corrosive, 3/4″ screws are used between each hanger to ensure a secure fit. Most of our competition will skip this step but to us it is extra insurance in installing our seamless gutters to your fascia boards (also minimizing the water that may want to wick behind the gutter.)
All downspout's and elbow's are screwed together, with again #440 stainless steel, non-corrosive, 1/2″ screws. Downspouts are also kept to a minimum as our gutter outlets are 30% larger than the standard. Our bigger outlet allows more water to flow and is less likely to clog. We also offer 3×4″ commercial grade downspouts.
The Sealant we use is the best that money can buy, no leak guarantee. It is used on all end caps, outlets, and miter strips and behind all cleats that we screw to your downspouts and then secure to your home. Other competitors use ugly pipe strap's that wrap around and are visually unacceptable.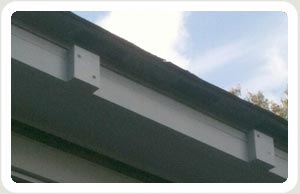 In some homes we see combination drip edges and venting applications, please note that a standard 5 inch gutter mounted to these type home sometimes leads to overshooting of the gutters as the roof edge from the fascia is too large for a normal 5 inch application and may require a wood build out with custom PVC silicon blocks or pre-primed and then painted fascia boards to ensure that the roof overhang does not exceed the capacity for a 5 inch application. We can also provide a 6 inch seamless application if your home can support this larger size gutter.
If your home has angled fascia boards, we use a custom aluminum wedge behind the gutter to ensure the proper angle, if your home has crown moldings with very small fascia's, we offer a custom chamfered wood build-out so to allow a normal gutter installation, without using roof straps.
Roof Edge Flashing or REF

Roof Edge Flashing or REF

is carefully installed under your existing roof shingles. This will minimize and in most applications eliminate any water or sneaky drips from getting into the vents and slipping behind the gutters and fascia boards. These drips of waters also produce unsightly stains on painted wood, wrapped metal and PVC fascia boards. This is also referred to or called "tiger striping", which are black colored stained marks from the shingles which are typically black or dark colored. Eventually long term drips and water will rot out wood fascia's and stain metal wrapped or PVC facias. These unattractive marks are hard to clean and most require power washing or repainting. If this type of flashing is of interest, please let us know prior to the installation.
Are gutter guard screens recommended? If all gutters and downspouts are properly cleaned and flushed every year or as required, your home you might not require gutter screens, we can provide you a year to year cleaning service.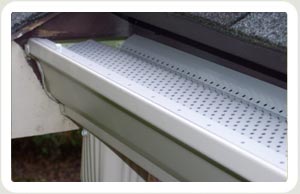 If you are covered by broad leaf tree's and troublesome pine needles, we have a great solution with a Raytec brand Real Guard that works hand in hand with our gutters and actually contours to our Raytec brand hangers. All estimates will include information on this cover and it's the only cover that we use, we have found that it works for both pine and broad leaf applications. Unlike the solid covers that work beautifully on an advertisement, and usually exceed twice the price of gutters on your home we will not install, PERIOD.