Gutter repair can be of concern when you live in Massachusetts. Here at Alo Seamless Gutters we offer the highest quality gutter repair service. In order to avoid costly damage to your home, you will want to make sure that your rain gutter system is functioning appropriately and diverting water from where it should not be and to where it should. A true gutter pro, Alo Seamless gutters is available should you find yourself in need of gutter repairs. Contact us today for any gutter cleaning and or repair issues you may be experiencing. Check out our GUTTER CLEANING page for more information on that service.
Gutter Maintenance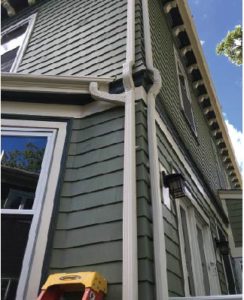 Gutter maintenance is key to avoiding issues around your home. Helping to divert from your roof, shingles, fascia and foundation is the responsibility of your gutter system. Alo Seamless Gutters is a trusted gutter repair company focused on providing you with top quality gutter repair work. Defend your home with your gutters in tip-top shape. Whether it is an existing issue, or something that may become an issue in the near future, contact us, we would welcome the opportunity to discuss your project.
Gutter Repair Cost
As with any service, gutter repair costs can vary depending on the depth of the issue, the size of your gutter system as well as the material used to repair your gutters. The great news is that here at Alo Seamless Gutters we offer a free estimate on your project. If you are looking for the best in gutter repair and gutter maintenance, look no further, we can help.